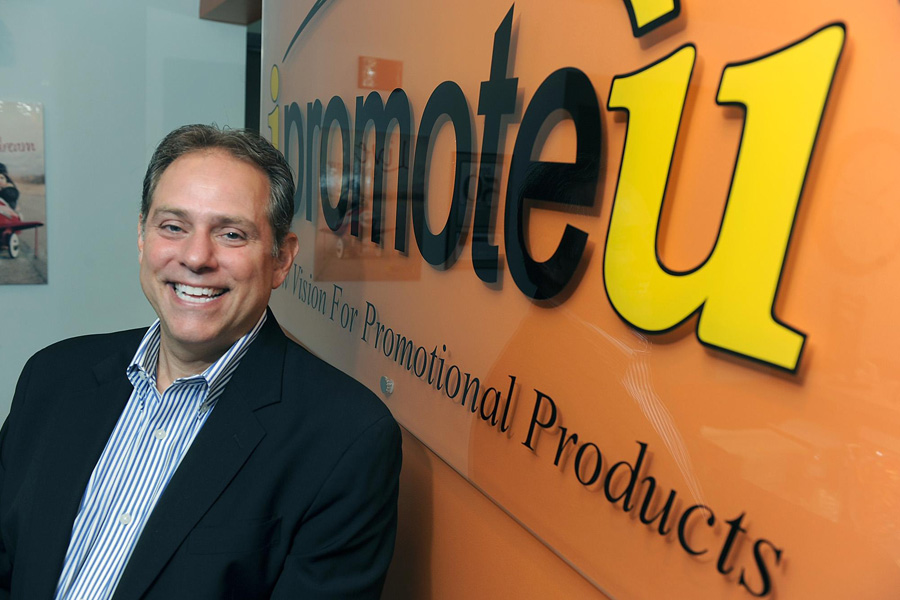 How iPROMOTEu Came to Be
iPROMOTEus was founded in 1999 by current President and CEO, Ross Silverstein. Ross began his career as a corporate lawyer with a major Boston law firm. His focus was on finances and acquisitions. Some time later, he accepted a leadership role at real estate giant RE/MAX, managing expansion throughout the U.S., Canada, Europe, and the Middle East. However, after seven years with RE/MAX, Ross began to feel the entrepreneurial gene emerging.
"I was approaching 40 and had a desire to be my own boss and earn more money. The Internet economy was booming, and you began to hear about new opportunities and fortunes being made every day," Ross said. "I didn't want to wake up in my mid-40s doing what I'd been doing, having not pursued other paths. I saw an opportunity to be my own boss and increase my income in the promotional products industry. Surprisingly, there were similarities between residential real estate and the promotional products industry, so I was able to draw from things I learned at RE/MAX. Oh, and I quit my job at RE/MAX to start iPROMOTEu when my wife was pregnant with our fourth child." 
Early on, iPROMOTEu followed an intermediary model and worked between vendors and end-users. However, the company experienced some challenges as vendors did not want to sell directly to end-users. With more than 19,000 promotional products distributors across the industry, Ross made the decision to work with them rather than bypass them. This helped to form the current Affiliate model, in which the company provided back-office support, financed orders, secured lower pricing from manufacturers, and allowed Affiliates to retain their identities. The new structure was an attractive option as more and more Affiliates joined.
"The platform itself was groundbreaking. At a traditional distributor organization, salespeople would be paid only about 50% of the gross profit on an order – but would receive some level of back-office support. As a franchisee of a franchise organization one could receive a better economic split – but receive no back-office support. iPROMOTEu took the best features from each of these options and came up with a superior organization. And notably, as an iPROMOTEu Affiliate, one could operate under its own name and identity."
Growth of iPROMOTEu Over the Past 20 Years
Ross attributes the growth of iPROMOTEu over the past 20 years to the company's core offering: supporting the desire for better economic and lifestyle choices while allowing Affiliates to retain full ownership of their business and brand. As iPROMOTEu Affiliates, distributors and salespeople earn more money and receive support in areas that would otherwise take time away from selling. This allows them to focus more on growing their businesses and customer relationships while also enjoying more time for family and friends. 
"The important thing is that our Affiliates are able to operate under their own name and identity," Ross said. "We wanted iPROMOTEu to be an option that was easy to get into and try out — and easy to get out of if it wasn't a fit. We don't require Affiliates to sign long-term, restrictive agreements or agree to strict non-compete provisions. We make it very easy. This was very attractive in the early days of iPROMOTEu and remains very appealing today."
As time passed, iPROMOTEu began to offer additional services such as marketing support, as well as a host of other services to help Affiliates grow their businesses. "We also fostered a remarkable community of entrepreneurial, like-minded professionals. We are recognized as having more energy, enthusiasm, camaraderie, and sense of community more than any other distributor organization in the promotional products industry. Affiliates love being part of iPROMOTEu."
"I often tell our Affiliates that, while I want iPROMOTEu to be the best company it can be, I also want iPROMOTEu to be the type of company our Affiliates want it to be," Ross said. "We encourage our Affiliates to reach out to us with comments, suggestions, and concerns. We want this feedback so we can constantly evolve and improve."
While iPROMOTEu listens to each Affiliate, Ross also notes how Affiliates have played a significant role in the company's growth and success. "Our Affiliates have become more than ambassadors — they've become advocates. They'll talk to other distributors and salespeople glowingly about the company. They represent us very well in the market."
Ross notes that while the future of iPROMOTEu is bright, there's still plenty of work to be done.
 "We've been one of the fastest-growing organizations ever since our inception. Our network of 1,100 distributors and salespeople makes iPROMOTEu one of the largest organizations in the industry, but there are still many more distributors and salespeople that we can help. We also want to focus on growing our existing Affiliates' businesses. Whether they've been with us for years or have recently joined, iPROMOTEu supports them in how they want to grow their business. We can focus on growing their customer base and sales volume or increasing their gross margin percentage- all while providing them with a more enjoyable quality of life."
We Work For You
"To our Affiliates — you are our customer; we work for you. Our objectives are for you to be more productive, more profitable, and happier — not only because you're more profitable but also because you're spending more of your time doing the things you want to do and less time doing the things you don't want to do," Ross said. 
Ross is also grateful to the entire iPROMOTEu staff for their hard work and commitment to the organization. 
"The iPROMOTEu staff is so valuable and central to our success. We have an amazing team that understands that the Affiliate is our customer. Each member of our staff goes out of his or her way to take the extra step to help our Affiliates. They are a tremendous group that I enjoy working with, and with whom are Affiliates love working as well."
At iPROMOTEu, we're always looking for motivated promotional products distributors and salespeople to join our organization. If you're ready to earn more money and enjoy a better quality of life, then we want to hear from you. Reach out to us today for a confidential discussion that could change your career.